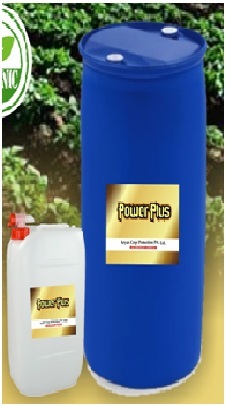 Agro fertilizers
Product Code : 8888
650 INR
Price And Quantity
Minimum Order Quantity

:

50
Unit of Measure

:

LITER
Product Specifications
Classification

:

other
Ph Level

:

7-8
Product Name

:

Power Plus For all Crops
Place of Origin

:

AHMEDABAD
Purity(%)

:

100
State

:

Liquid
Moisture (%)

:

NA
Product Description
Power Plus Oligosaccharids is natural product isolated from the marine organisms. Power Plus has remarkable potential in agriculture with regard to plant growth, immunity, antimicrobial activites.
Applications of Power Plus
· Plant Growth Promoter
Power Plus enhances plant growth and development. Power Plus showed positive effects on germination index, growth of seeding, root length, shoot growth, flowering. Increased leaf area, leaf dry weight etc.
· Increases Immunity
Power Plus has been shown to trigger defense mechanisms in plants. Power Plus increase resistance against fungal, viral and bacterial infection. Power Plus induces the expression of a variety of genes involved in plant defense response that, in some cases, result in increased synthesis of secondary plant metabolites.
· Antifungal Activity
Power Plus exhibit strong antifungal activity. Power Plus binds to fungal receptor sites, mimicking an attack by fungal spores. This in turn results in signals being sent to the nuclei of the plant and triggering signals, which elicit multiple genetic and biological responses, including the production of phytoalexins (anti- microbial compounds produced in plants), aimed at inhibiting infections.
· Antiviral Activity
Power Plus was shown to inhibit the systemic propagation of viruses and viroids throughout the plant and to enhance the host's hypersensitive response to infection. Power Plus were reported to be active against the potato virus X, tobacco mosaic and necrosis viruses, alfalfa mosaic virus, peanut stunt virus and cucumber mosaic virtus.
· Nematicidal Properties
Nematodes proliferation can be controlled when Power Plus is applied in soil because chitinolytic microorganisms proliferate destroying nematode eggs and degrading the chitin- containing cuticle of young nematodes. Because of the high content of nitrogen in Chitosan Oligosaccharide, concentrations of ammonia emissions increase, turning toxic to nematodes which principally affect plant roots and shoots.
· Seed Coating
Power Plus treatment alters the permeability of the seed membrane and thereby increases the concentration of nutrients in the seed Hence, the seeds soaked in Power Plus have a better germination rate and the seeds germinate faster and vigorously. Power Plus forms a thin coat over the seeds and gives more firmness to the seeds and protects it from microbial attack.
· Alleviates Stress
Power Plus improves the plant tolerance to salinity, metal toxicity and limits transpiration. Increases the quality and shelf life of the harvested product. Improves the quality and health of the soil.
Contact Us
G-20, Om Park Complex, Near Getanjali Cross Road, Pij Road, Nadiad, District- Kheda, Nadiad, Gujarat, 387002, India